Virtual Reality 101- Girls Learn VR
Have you ever wondered what it would be like to transport to another world or walk in someone else's footsteps? That is exactly what we can do in Virtual Reality. Come check out this amazing new technology that is on the verge of becoming the next big thing. Traditional filmmaking reflects upon stories that can only go as far as a flat screen, now we can create fully immersive stories that will feel like you are actually there.
You will be able to experience virtual reality on the VR gear, learn about this amazing new technology, write your own VR short film, collaborate with other creative people, work with 360 degree cameras, and take videos and photos to view on VR headsets.
No previous experience necessary!
LA Area - Venice VR Sign Up Here!
Los Angeles Area
Girls Make VR in partnership with Camp Reel Stories will be teaching Unity Basics and VR Filmmaking.
Ages: Girls 15-22 yrs old
Dates and time: Saturday Feb 3rd and Sunday Feb 4th / 9:30-4:30pm
Location: 1320 Main St. Venice, CA 90291
Cost $200 – Limited Financial Aid available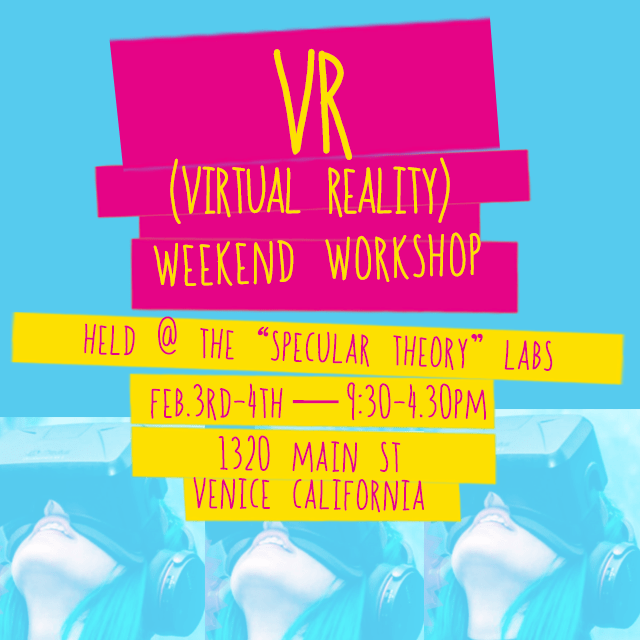 Oakland Area
Ages: 13-19 yrs old
Dates and time: October 22-23, 2017
Location: Mill Valley Studios
Cost $250 – Limited Financial Aid available
More info: Azine Davoudzadeh has been a storyteller from an early age. She has a degree in Film from San Francisco State University and currently teaches video production at Gale Ranch Middle School. She has been an educator for 10 years and has a wide variety of experiences in film, art, and acting.
Enflux will be demoing "Virtual Village People," a fun and competitive virtual reality dance game on the HTC Vive. It's like Dance Dance Revolution with your body in virtual reality. Strike the right pose at the right time and beat the high score!