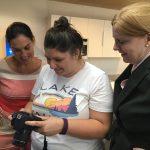 "I am still on a high from last weekend. Beginning with the magical journey up the red staircase, I learned so much and had a blast. I loved meeting all the speakers and attendees. I'm still in awe of the fact that two films were made and they were both great and fun to watch and made sense. Wow!" – Amy
You asked and we answered! A fun-filled weekend of women and filmmaking is at Camp Reel Stories. Join us for an awesome three days and your chance to produce your own film! Utilizing the same techniques and technology we use at Camp Reel Stories we will give the grown women a chance to see that your stories and ideas matter and your audience is waiting!
You will learn the same techniques we teach at our youth program in 2 1/2 days! You'll learn story structure, basic camera, editing on premier and then work in a small team to make your own short film!
The Women's Filmmaking Weekend will be held at our new offices at 'The Factory' in sunny San Leandro. It will take place on Sept.

 30- Oct. 2nd
Schedule:
Friday, Sept. 30th – 5-8pm
Saturday, Oct. 1st and Sunday, Oct. 2nd – 9:30-5pm 
Space is extremely limited!