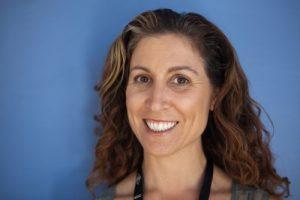 Esther Pearl
Founder, Executive Director
Esther Pearl is the founder and Executive Director of Reel Stories. She received her Bachelor's in Visual Arts from the University of California, San Diego and her M.B.A. in Sustainable Management from The Presidio Graduate School. She spent 15 years working in Production Management in the entertainment industry. The majority of Esther's film career was spent at Pixar Animation Studios where her feature film credits include Academy Award winning films The Incredibles, Wall-e, and Monsters, Inc. Her other credits include Titanic, Starship Troopers, Armageddon, and What Dreams May Come. Esther has been honored for her contributions to Bay Area Women in Film, Television, and Media by the San Francisco Women's Film Institute. She was a semi-finalist for the Echoing Green Fellowship awarded to a social entrepreneur addressing urgent issues in society today. In 2018, she received the Distinguished Leadership Award from the Advanced Imaging Society.
Esther believes in the power of great storytelling to create social change.
esther@campreelstories.com
Anjalie Aurora
Marketing, Outreach, & Events Coordinator
Anjalie is a University of California, Santa Barbara graduate with a Bachelor's degree in Communication. She's been with Reel Stories since February 2017, starting out as a marketing volunteer and joining the team full time in January 2019. Anjalie is passionate about advocating for gender equity in the media and stoked to be working with Reel Stories to fight the patriarchy!
Alexandria Bordas
Program Manager
Alexandria has spent the past eight years as a journalist working in newsrooms across the country - from the mountains of rural Western North Carolina, to the coast of Miami and, most recently, in Santa Rosa. She obtained a graduate degree from Columbia University and as a journalist has covered topics including the opioid epidemic overwhelming foster care systems, the difficulties of accessing mental health services, LGBTQ+ rights and cases of sexual assault. She is a first-generation Cuban-American woman. Alexandria brings her strength of storytelling and passion for highlighting the stories of those underrepresented in the media to the Reel Stories team.
Vera Tykulsker
Development Associate
Vera is an arts administrator originally from Brooklyn, New York. She is an avid reader, hiker, and movie-lover. In addition to working with Reel Stories, Vera currently works with KPFA Community Radio. In the past she has worked with Bay Area media organizations including Making Contact and The Freedom Archives. She is passionate about supporting artists and organizers create and challenge the world around them
Grace Patterson
Alumni Engagement
Grace is an Art and Technology major at Mills College with dreams of making movies that will change the world. She has been a part of Reel Stories since 2014, and is a proud member of the LGBTQ+ community. The film she is most proud of creating at Reel Stories is "After The Storm", which had its audio mixed at Dolby Laboratories in San Francisco. Some of her favorite TV shows with strong female characters are Crazy Ex Girlfriend, The Handmaid's Tale, and Glow.
Andrea Millan
Intern Fall 2019-Winter 2020
Andrea is a senior at Silver Oak High School in Hayward with hopes of pursuing film at San Francisco State University. With a passion for editing, Andrea spends her free time editing videos and perfecting her adobe suite skills. One of her favorite shows is Vampire Diaries and she loves spending time with her mom, who's also her favorite female role model!
Riley Rich
Intern Fall 2019
Riley is a Media Studies major at University of San Francisco. After graduation, she plans to pursue a career in film and her dream would to be either a director, producer, or show runner. Originally from San Diego, Riley's an avid hiker, cook, & podcast listener, favoring the 'Goop' & 'Armchair Expert' podcasts. Riley's been an awesome asset to the Reel Stories team, and hope she can renew her internship with us in the spring!
Reel Stories – Los Angeles
Heidi Cregge Cabra
Program Coordinator - Reel Stories LA
Heidi is the founder and former director of the School of Digital Media at Oakland School for the Arts (OSA), and former co-chair of OSA's School of Visual Art. She has B.F.A in Film from Virginia Commonwealth University and an M.F.A. in Visual Effects Programming from Savannah College of Art and Design. Heidi formerly served on our Board of Directors in the Bay Area before relocating to Long Beach at the end of 2018. Currently, she leads the Reel Stories Los Angeles chapter, organizing weekend workshops and incorporating her passion for critical media studies and production into the curriculum. We're stoked to have her leading Reel Stories Los Angeles!