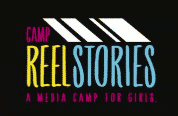 Programs Assistant Job Description Americorps BAYAC Position Camp Reel Stories believes that when women and girls are better represented behind the scenes in the media, they will be better reflected on the screen. Camp Reel Stories (CRS) is a non-profit organization that empowers young women ages 12-20 with the skills to create their own media, to view current media critically and thoughtfully, and to aspire to leadership in their field. In the CRS programs, young women get to work in small, collaborative groups to write, shoot, edit, and broadcast their own short films. CRS is the only media program led by professionals in the media industry. Through summer programs and mid-year workshops, CRS creates a unique, safe, and confidence-building space for young women from diverse backgrounds to express themselves and embrace their individual point of view through media making. In an industry that is male dominated, CRS paves the way towards gender parity in the media by building a supportive community among media professionals, the youth we serve, and their families. Camp Reel Stories is located in the Department of Make Believe in Downtown Oakland and our media workshops are held in our offices and/or at various schools in Oakland.
SHARED VALUES AND EXPECTATIONS
Support Camp Reel Stories in bringing their mission statement to life
REQUIREMENTS
● Be a "people person" with excellent written and in-person communication skills
● Self-motivated and able to work alone successfully and efficiently
● Ability to work collaboratively with your supervisor and other staff members
● Openness to feedback and desire to grow professionally
● Ability to handle multiple tasks efficiently and accurately
● Strong organization skills and attention to detail
● Ability to maintain an excellent work ethic, a high level of energy and exceptional enthusiasm ● Youth media educator experience
● Experience working in formal or informal educational settings
● Experience in the film industry preferred or knowledge in the filmmaking process
● Experience with Media equipment and technology including, DSLR cameras, Audio recording equipment, IMovie, MS Office suite, email, Internet, Dropbox, Tumblr, Facebook, Twitter and Instagram.
● Excellent written and verbal communication skills.
ESSENTIAL DUTIES & RESPONSIBILITIES
After School Program Assistant
● Assist the CRS Program Coordinator in the creation youth media workshops
● Assist the CRS Program Coordinator with vetting and coordinating volunteers for youth media workshops
● Implement the Camp Reel Stories Media Curriculum for afterschool workshops and school clubs
● Ensure curriculum is responsive to members' interests, rigorous, culturally relevant, and incorporates the Camp Reel Stories guiding principals ● Outreach to various middle schools, high schools, and community centers for key programming events Youth Advisory Board Oversight & Mentoring
● Coordinate the CRS Student Board of Directors. o Oversee media projects that focus on subjects relative to the CRS mission that will be created throughout the year by the CRS Student Board of Directors o Arrange for continuing education for the Student Board of Directors. That will include coordinating tours of local production companies, opportunities to attend local film festivals, on going media education *There will be occasional evening and weekends for CRS events.