Camp Reel Stories believes that when women and girls are better represented behind the scenes in the media, they will be better reflected on the screen. Camp Reel Stories is a non-profit organization that empowers 13-18 year old young women with the skills to create their own media, to view current media critically and thoughtfully, and to aspire to leadership in their field.
Episode 014: Training young women for employment in film careers—how Esther Pearl and Camp Reel Stories are creating a more inclusive media landscape http://eosummit.com/episode-014-training-young-women-for-employment-in-film-careers-how-esther-pearl-and-camp-reel-stories-are-creating-a-more-inclusive-media-landscape/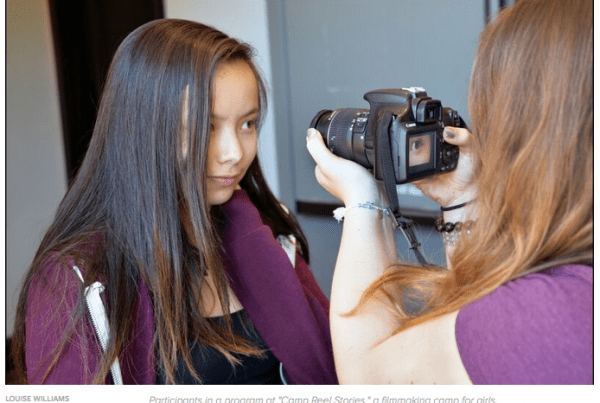 Camp Reel Stories puts teenage girls behind the camera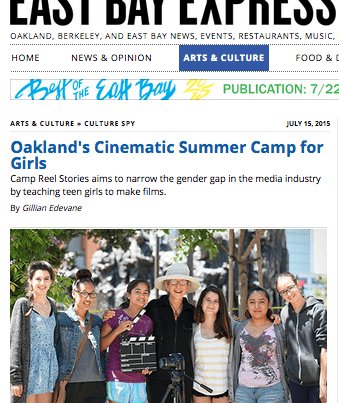 Oakland's Cinematic Summer Camp for Girls – East Bay Express
"Camp Reel is the place where I get to go every summer and bond with girls who get me...girls who are also really into films and stories, and more so studying the human spirit through storytelling. It's great to have an audience who gets you. "

− CRS Camper
"I just want to say again how wonderful your curriculum was for this camp. A lot of acting/ media/ theater schools and camps forget the larger question of semiotics and a critical stance, and fail to connect the "yay! I get to be a movie star for a day" to the larger questions of what media means, why feminism matters in relationship to it, and how girls' creativity fits into this larger framework. Ella has been daily telling everyone about the Bechdel test-- it's as exciting to her as getting to see herself on YouTube. Thank you, thank you, thank you!"

− CRS Parent
"I had a really great time being at camp and would love it if there were an advanced camp to continue in next year. I would love to participate year-round and help to make the camp even better than it already is."

− CRS Camper
"I don't know where to begin to thank you for the CRS experience. It was amaaaaazing! You are amaaaazing!!! Really, there aren't words that can capture the depth of CRS and what it meant to every single person involved"

− CRS Volunteer
"It's a place where I've realized what my voice can look like. It's a great motivator to have these women come in from the business who have found their voices so totally and seem to know right where they want to be and that's where I want to be."

− CRS Camper
Volunteer With Camp Reel Stories
No film experience required! Help show girls their stories matter.